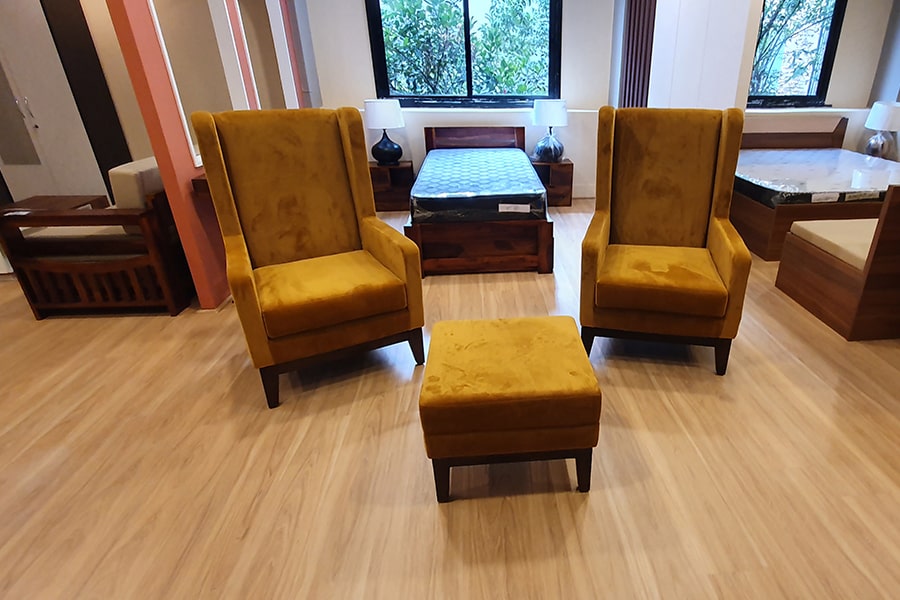 Best Home Furniture Stores in Nepal | Interior Points Nepal
When it comes to enhancing the beauty and functionality of your living spaces in Nepal, Interior Points Pvt Ltd stands out as a premier destination. Furniture is more than just a functional element in our living spaces; it's a reflection of our style, comfort, and personality. This organization has emerged as a prominent player in the furniture stores in Nepal, offering an exquisite range of products that cater to a variety of tastes and needs.
Nepal, a land of breathtaking landscapes, rich culture, and warm hospitality, also holds a hidden treasure trove for those with an eye for interior aesthetics. Stepping into the world of Nepali furniture stores is like embarking on a journey through craftsmanship, tradition, and contemporary design. Join us as we explore the enchanting world of furniture shopping in Nepal, where each piece tells a unique story.
Why To Choose Interior Points Nepal For Your Home Furniture Design and Making?
Choosing Interior Points Nepal for your home furniture design and manufacturing needs offers numerous compelling reasons that set them apart as a preferred choice in the industry. With their commitment to design excellence, versatile product range, customization options, and unwavering dedication to quality, they have earned their reputation as a leader in the industry.
Elevate your living spaces with Interior Points and experience the difference that expertly crafted furniture and design can make in your life. Here are some key reasons why you should consider Interior Points Nepal for your home furniture needs:
🌿
Design Excellence:
At Interior Points Pvt Ltd, design excellence is at the core of their philosophy. With a team of skilled interior designers, the company ensures that every piece of furniture they manufacture and supply is not just functional but also a work of art. Whether you're looking to revamp your living room, bedroom, or office, you'll find a stunning array of products that can elevate your space to new heights.
🌿

Versatile Furniture Selection:
One of Interior Points' key strengths is its diverse selection of furniture products. Whether you need a sleek and modern sofa for your contemporary living room, a sturdy and elegant dining table for family gatherings, or a space-saving wardrobe for your bedroom, Interior Points has got you covered. Their extensive product range also includes bookshelves to display your cherished collection and nightstands to keep your essentials within reach.
🌿

Customization for Unique Spaces:
Interior Points Pvt Ltd understands that every space is unique, and every customer has their own distinct tastes and preferences. That's why they offer customization options for their furniture products. Whether you need a specific size, color, or design, their team is dedicated to tailoring furniture to your exact requirements, ensuring that your vision for your space becomes a reality.
🌿

Quality and Craftsmanship:
Quality is non-negotiable at Interior Points. As a furniture manufacturer, they take pride in the craftsmanship of their products. Each piece is meticulously crafted to meet the highest standards, ensuring durability and longevity. When you invest in furniture from Interior Points, you're investing in the long-term beauty and functionality of your space.
🌿

Comprehensive Solutions:
What sets Interior Points Pvt Ltd apart is its ability to provide comprehensive interior design solutions. They not only offer top-tier furniture but also provide professional interior design services. Their expertise in both areas allows them to create cohesive, aesthetically pleasing, and functional spaces that reflect your unique style and needs.
🌿

Delivery and Installation:
To make your experience hassle-free, Interior Points offers delivery and installation services. They ensure that your furniture is safely delivered to your doorstep and expertly assembled, leaving you with a ready-to-enjoy space.
Explore Their Exceptional Furniture Products

🍁 Sofas and Seating:
Imagine sinking into a plush, stylish sofa after a long day. Interior Points understands the importance of comfortable seating, offering an array of sofas that combine form and function. Whether you prefer the modern minimalism of leather sofas or the timeless elegance of fabric upholstery, their collection has something for everyone.
🍁 Tables:
Tables are central to our daily lives, serving as gathering spots for family meals, workstations, and displays for cherished items. Interior Points offers a diverse selection of tables, from sleek and contemporary dining tables to functional and space-saving coffee tables. Their tables are not just pieces of furniture; they are conversation starters and focal points of your room.
🍁 Bookshelves and Storage:
A well-organized space exudes an air of sophistication. Interior Points' bookshelves and storage solutions help you keep your living areas clutter-free while adding an artistic touch to your decor. Choose from open shelving units that showcase your books and collectibles or closed storage cabinets that offer discreet organization.
🍁 Wardrobes:
A well-designed wardrobe is essential to keep your clothes and accessories organized. Interior Points offers wardrobes that combine aesthetics and functionality seamlessly. Whether you need a spacious closet for your bedroom or a compact storage solution for your entryway, they have options that fit your space and style.
🍁 Nightstands:
Nightstands are small but essential pieces of bedroom furniture. Interior Points provides a range of nightstands that complement your bed and offer convenient storage for your nighttime essentials. From classic wooden designs to modern, minimalist options, you'll find the perfect nightstand for your bedroom.
🍁 Dressers and Chests:
These bedroom essentials offer not only storage for your clothing and personal items but also contribute to the aesthetics of your room. Dressers typically come with multiple drawers, while chests may have fewer, larger drawers. Their designs vary from classic and traditional to modern and sleek, allowing you to choose a piece that complements your bedroom decor.
🍁 Vanity Tables:
A vanity table is a must-have for those who want a dedicated space for grooming and makeup. It often includes a mirror and drawers for storing cosmetics, jewelry, and accessories. Vanity tables come in various styles, from antique and ornate to contemporary and minimalist, allowing you to create a personalized beauty station.
🍁 Rocking Chairs:
Rocking chairs are known for their soothing rocking motion, making them a popular choice for nurseries, reading nooks, or relaxation areas. These chairs come in a range of designs and materials, ensuring you can find one that matches your decor and provides the level of comfort you desire.
🍁 Beds and Mattresses:
The centerpiece of any bedroom is the bed. Furniture stores typically offer a variety of bed styles, including platform beds, sleigh beds, canopy beds, and more. Alongside beds, you'll find a selection of mattresses designed to suit different sleep preferences, such as memory foam, innerspring, and hybrid options.
🍁 Sectional Sofas:
Ideal for larger living spaces, sectional sofas offer ample seating and versatility. You can configure the sections to create a custom seating arrangement that fits your room perfectly. Sectionals come in various shapes and styles, from L-shaped to U-shaped, with options for recliners and chaise lounges.
🍁 Recliners:
Recliners are the epitome of relaxation. Whether you prefer a classic leather recliner or a modern fabric design, these chairs allow you to kick back and unwind with ease. Some recliners even have built-in massage and heating features for added comfort and luxury.
🍁 Credenzas:
Credenzas are versatile furniture pieces that offer both storage and style. They can serve as elegant additions to your dining room, providing storage for dinnerware and serving dishes. In a living room or office, they function as attractive media consoles or display units for decorative items.
🍁 Outdoor Dining Sets:
Make the most of your outdoor space with durable and stylish outdoor dining sets. These sets often include a table and matching chairs designed to withstand outdoor conditions. They come in various materials like aluminum, teak, and wicker, allowing you to create a welcoming outdoor dining area.
🍁 Patio Umbrellas and Gazebos:
To enhance your outdoor oasis, consider adding patio umbrellas and gazebos. These provide shade and protection from the sun, making your outdoor space more comfortable and inviting. Gazebos can also serve as a focal point for outdoor gatherings and relaxation.
🍁 Folding Furniture:
Folding chairs and tables are excellent choices for occasional use and compact living spaces. They're easy to store and set up whenever you need extra seating or dining space. Folding furniture is available in a variety of materials and styles, making it versatile and functional.
🍁 Bathroom Vanities:
Elevate your bathroom's functionality and style with a well-designed bathroom vanity. Vanities typically feature a sink and storage space for toiletries. They come in various sizes and designs, from traditional wood vanities with marble tops to modern wall-mounted vanities with minimalist aesthetics.
🍁 Bar Carts:
Add a touch of sophistication to your home with a bar cart. These portable furniture pieces are perfect for serving drinks and refreshments to guests. Bar carts often feature shelves for bottles, glassware, and bar accessories, making them a functional and stylish addition to your home bar area.
🍁 Plant Stands and Shelving:
Showcase your indoor plants and decorative items with plant stands and shelving units. These pieces not only provide a designated space for your plants but also add a decorative element to your home. They come in various styles, including modern, rustic, and industrial, to suit your interior decor.
🍁 Hallway Tables:
Hallway tables, also known as console tables, are slim and versatile pieces of furniture perfect for hallways and entryways. They offer a convenient surface for holding keys, mail, and decorative items like vases or artwork. The design of hallway tables can range from traditional to contemporary, allowing you to find one that complements your space.
🍁 Bunk Beds:
Bunk beds are a practical solution for maximizing space in kids' rooms or guest rooms. They consist of two or more beds stacked on top of each other, allowing multiple people to sleep comfortably while saving floor space. Bunk beds come in various configurations, including twin over twin, twin over full, and more.
🍁 Library and Wall Units:
Create a stunning focal point in your home with wall units designed to showcase your books, decor, and entertainment systems. These units often include shelves, cabinets, and compartments for storage and display. Whether you're a book enthusiast or a collector of art and collectibles, a well-designed wall unit can enhance the aesthetic appeal of your living space.
🍁 Outdoor Fire Pits:
Extend your outdoor enjoyment into cooler evenings with outdoor fire pits. These provide warmth and create a cozy ambiance, making them perfect for gatherings with friends and family. Fire pits come in various styles, such as wood-burning, gas, and propane options, allowing you to choose one that suits your outdoor space.
🍁 Swings and Hammocks:
Create a tranquil outdoor retreat with swings and hammocks for relaxation. Swings are often suspended from sturdy frames and provide comfortable seating for one or more people. Hammocks are perfect for lounging and napping, providing a comfortable and stress-relieving outdoor experience.
🍁 Lounge Chairs:
Sunbathe or relax by the pool with comfortable lounge chairs and chaise lounges. These pieces of outdoor furniture are designed for relaxation and typically include adjustable backrests for personalized comfort. Lounge chairs come in various materials, including teak, aluminum, and wicker, offering both style and durability.
🍁 Garden Benches:
Enhance your outdoor landscape with charming garden benches. These benches provide seating and a place to appreciate your garden or outdoor surroundings. Garden benches come in various materials, including wood, metal, and concrete, with designs ranging from classic to contemporary.
🍁 Pet Furniture:
Pamper your furry friends with pet beds, houses, and furniture designed for their comfort. Pet furniture includes cozy beds, scratching posts, cat trees, and stylish dog crates that blend seamlessly with your home decor. These pieces are not only functional but also add to the aesthetics of your space.
🍁 Dining Room Sets:
A dining room set typically includes a dining table and matching chairs, creating a cohesive dining experience. Whether you prefer a formal dining room with a large table or a more casual dining area with a smaller table, you can find a set that suits your style and space.
🍁 Occasional Tables:
Occasional tables are versatile and can be used for various purposes throughout your home. They include end tables, nesting tables, tray tables, and more. These tables are perfect for holding drinks, snacks, books, or decorative items and can be placed in living rooms, bedrooms, or home offices.
🍁 Wall Art and Decor:
Personalize your living spaces with wall art, mirrors, and decor items. Wall art can include paintings, prints, and sculptures that reflect your style and interests. Mirrors not only serve functional purposes but also help create the illusion of space and add decorative flair to your walls. Decor items, such as vases, clocks, and wall shelves, contribute to the overall aesthetics of your home.
🍁 Ceiling Fans:
Stay cool and stylish with ceiling fans that offer both comfort and illumination. Ceiling fans come in a variety of designs, from classic and traditional to modern and contemporary, allowing you to choose one that complements your room's decor. Many ceiling fans also feature built-in lighting options to brighten your space.
🍁 Fireplace Mantels:
Elevate the visual appeal of your fireplace with decorative mantels. Fireplace mantels serve as elegant frames for your fireplace and provide a surface for displaying decorative items like candles, artwork, or family photos. Whether you have a traditional wood-burning fireplace or a modern electric one, a well-designed mantel can enhance its overall aesthetic.
🍁 Room Dividers:
Create separate zones within a room or add privacy with stylish room dividers and screens. Room dividers can be used to partition large open spaces, define different functional areas, or simply add an artistic element to your interior decor. They come in various materials, such as wood, metal, and fabric, with designs that range from decorative to functional.
🍁 Stools and Poufs:
Stools and poufs are compact seating options that provide flexibility and can be easily moved around your space. Stools come in various styles, including bar stools, counter stools, and backless stools, and are ideal for seating at kitchen islands or bars. Poufs are versatile pieces that can serve as footrests, extra seating, or even low coffee tables, making them a versatile addition to your living room or bedroom.
Nepali Craftsmanship: Where Tradition Meets Artistry
Nepal boasts a long history of craftsmanship passed down through generations. As you enter a traditional furniture store here, you'll be transported to a world where woodworkers masterfully create pieces that seamlessly blend heritage and artistry. From intricately carved wooden bed frames inspired by Newari traditions to exquisitely woven rattan chairs, each item carries the soul of the artisans who crafted it.
Natural Materials and Sustainable Practices
One of the most remarkable aspects of Nepali furniture stores is their commitment to sustainable practices. Many stores source their materials locally, emphasizing the use of sustainable wood like teak and mahogany. This Eco-conscious approach not only preserves Nepal's lush forests but also results in furniture that exudes warmth and natural beauty.
Also Read: Small House Design
The Diversity of Styles: Furniture Stores in Nepal
Nepal's furniture stores offer an extensive range of styles to cater to every taste. Whether you're a fan of classic designs that pay homage to Nepal's rich history or you prefer modern, minimalist aesthetics, you'll find an array of options to suit your preference. Each store tells a unique design story, making it an exciting experience to explore the diverse offerings.
The Warmth of Nepali Hospitality
What sets shopping for furniture in Nepal apart is the warmth and hospitality of the store owners. They take pride in introducing you to their collections, sharing insights about their products, and even offering you a cup of traditional tea as you browse. It's not just a transaction; it's an exchange of stories, cultures, and smiles.
Discovering Hidden Gems
Furthermore, As you wander through the charming streets of Kathmandu or explore the tranquil towns of Nepal, you'll stumble upon hidden gems tucked away in corners and alleys. However, these boutique furniture stores often showcase unique and one-of-a-kind pieces that you won't find anywhere else. It's a true treasure hunt for the discerning shopper.
Bringing Nepal Home: Furniture Stores in Nepal
Whether you're a visitor to Nepal or a resident, shopping for furniture here is more than just acquiring home furnishings. It's about bringing a piece of Nepal's rich culture and history into your home. Each item becomes a lasting souvenir, a reminder of the enchanting journey you embarked upon.
In conclusion, exploring furniture stores in Nepal is not just a shopping expedition. It's an immersive experience that connects you with the heart and soul of this extraordinary nation. It's a journey that leads you to discover the artistry, tradition, and warmth that define Nepali furniture and the people who create it. So, the next time you find yourself in the heart of the Himalayas, don't forget to take a detour into these furniture stores – you might just find your perfect piece of Nepal.
Their combination of design expertise, customization options, commitment to quality, and comprehensive solutions makes them a trusted partner in creating beautifully designed and functional living spaces tailored to your individual needs and preferences.
If you are interested to know more about Interior Design Company in Nepal Click in the link and go through it for more information.
"Ready to transform your living spaces? Explore our wide range of furniture products and design solutions at Interior Points Nepal today! Whether you're looking for the perfect sofa, a stylish dining set, or customized pieces to match your unique style, we have you covered. Don't settle for ordinary; create extraordinary spaces with Interior Points Nepal. Visit our showroom, Contact Us or browse our online catalog now to get started on your journey to a more beautiful and functional home."