Interior Points Nepal – Your Premier Interior Design Partner
Contact us today to experience top-notch interior design in Nepal and construction services tailored to meet your unique needs. Our comprehensive interior design services encompass everything you need to create stunning spaces: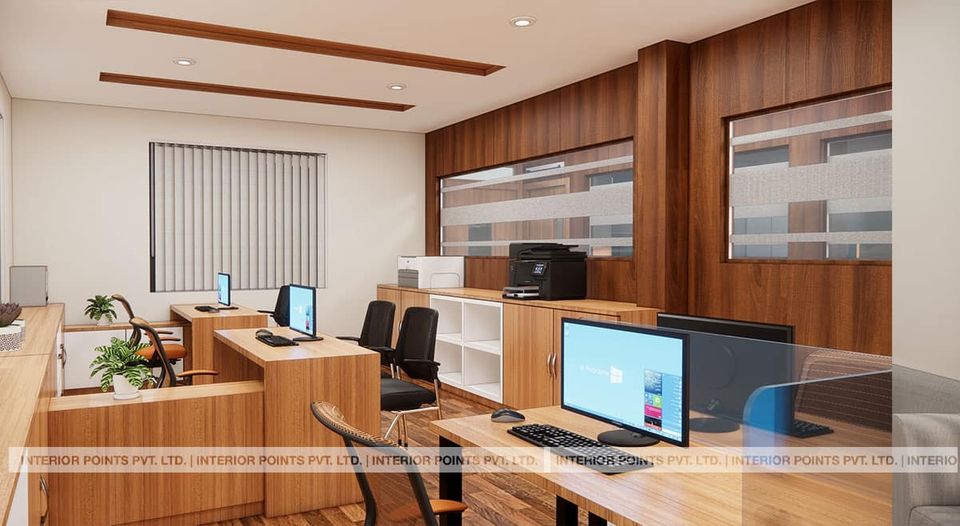 1. Concept Layout:
Our process begins with the creation of a thoughtful concept layout, which serves as the blueprint for your interior design project. This initial stage is crucial for setting the tone and direction of your design.
2. Architectural Detail:
Our teamteam has meticulous attention to architectural details, ensuring that every aspect of your design aligns with your vision. This includes elements such as molding, trim, and structural features that enhance the overall aesthetic.
3. Interior Space Planning:
Efficiently utilizing your available space is essential. Our experts excel in optimizing layouts to maximize functionality and flow while maintaining an appealing design.
4. 3-D Views:
Visualize your project like never before with our 3-D views. These detailed renderings allow you to see how your design will look in reality, providing clarity and confidence in your choices.
5. Color Scheme:
We assist you in selecting the perfect color scheme to achieve the desired ambiance and style for your space. Our recommendations are tailored to your preferences and the intended mood.
6. Material Specifications:
From flooring to furnishings, we provide comprehensive material specifications. It ensures that every component of your interior design meets the highest standards of quality and aesthetics.
7. Modeling:
Our modeling expertise brings your design to life in a precise and accurate manner. This step is instrumental in visualizing your project's potential.
8. Final Integrated Interior Design:
Our holistic approach ensures that all design elements seamlessly come together, resulting in a harmonious and integrated interior that reflects your vision.
9. Manufacturing Criteria:
We adhere to stringent manufacturing criteria to guarantee that the materials and products used in your project. The products meet the highest industry standards for durability and quality.
10. Estimating:
Our transparent and accurate cost estimating helps you plan and manage your budget effectively, ensuring that there are no surprises during the project.
11. Design & Documentation:
Meticulous documentation is a cornerstone of our service. We document every aspect of the design process, ensuring clarity and precision in execution.
12. Tendering:
We streamline the tendering process, making it efficient and straightforward. This enables smooth project procurement and collaboration with contractors and suppliers.
13. Construction Supervision:
Our experts oversee every phase of construction, from inception to completion. This hands-on approach ensures that your vision is executed to perfection.
Project Categories
We specialize in all types of interior design works, catering to a diverse range of clients. It is from small startups to large corporations. Our expertise extends to various sectors:
Office Design: We specialize in creating productive and inspiring workspace that cater to the unique needs of your business and employees.
Bank Design: Our designs for banking institutions focus on creating welcoming and efficient environments that enhance customer experiences.
Home Design: Craft your dream home with our creative touch, ensuring a perfect blend of aesthetics and functionality.
Hospital Design: We specialize in designing healthcare spaces that are not only functional but also soothing and conducive to healing.
Restaurant Design: Our restaurant designs aim to craft unique dining experiences that leave a lasting impression on your customers.
School Design: Create vibrant and conducive learning environments that promote engagement and growth among students.
Cinema Hall Design: We specialize in creating memorable cinema experiences through thoughtful and immersive design concepts.
Business Complex Design: Design modern business hubs that reflect the dynamic nature of today's corporate world.
Building Design: Elevate the aesthetics and functionality of your building with our expertise in architectural and interior design.
Co-Operative Design: Craft inviting co-operative spaces that foster collaboration and community engagement.
At Interior Points Nepal, we are dedicated to delivering excellence in interior design services across all project categories. Contact us today to discuss your project, and let us bring your interior design vision to life with precision and creativity.
"Ready to Transform Your Space? Contact Us Today!
At Interior Points Nepal, we have a proven track record of crafting stunning interiors for a diverse range of spaces. Whether it's your office, home, or commercial establishment, our experienced team is here to bring your vision to life. Let's create a space that reflects your style and meets your functional needs.
Get in touch with us today for a consultation. Together, we'll embark on a journey to elevate your space to new heights. Your dream interior is just a click or call away!"